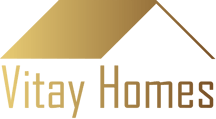 Vitay Homes delivers green energy, affordable, precision-engineered, sustainable homes built with style and functionality in mind.
Vitay Homes is focused on innovation and quality so that the end result is a highly customized, modern, energy-efficient and customizable home made to suit your personal preferences. We make an effort to use sustainable materials to lower the environmental impact, conscious of our effect on future generations. We draw on the latest technologies and ideas, with a focus on functionality in order to make the most out of our living spaces.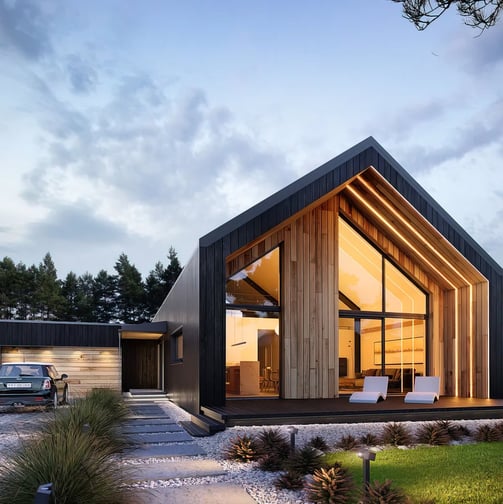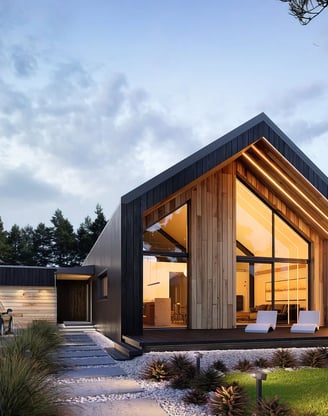 There Is No Place Like Home...
Your Very Own
Latest Technologies
Vitay Homes offers products with the newest construction technologies and designs, surpassing the E.U and U.S. standards and trends.
Vitay Homes can be erected just about anywhere. Our homes are built for all locations and climate conditions. They are ideal both as a temporary residence or as a permanent home.
Custom Design
Our homes consist of modules that can be interconnected in a variety of ways. In addition, we offer a wide range of styles, design layouts and color schemes to provide the ideal interior and exterior look and functionality. Our customers can choose from an array of currently available floor plan options or we will work up a plan that is customized to their personal preferences and budget.
Affordability
With home prices steadily on the rise, Vitay Homes' goal is to keep our housing solutions within the financial reach of our customers and those who have difficulty affording traditional homes. Our goals are to make our customers dreams of affordable home ownership become their reality and to do so without compromise to our quality standards.
Quick Installation
Looking to build a house but not looking forward to weeks of house construction?
Vitay Homes is perfect for a quick, safe and solid installation. Since the house is prefabricated and built on solid helical piers (no conventional foundations needed), it takes fewer than 7 days, on average, from groundbreaking to moving in. No extra heavy-duty machinery is needed either.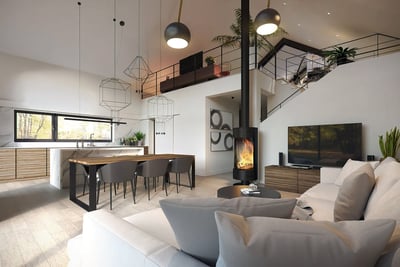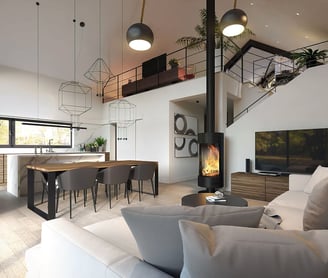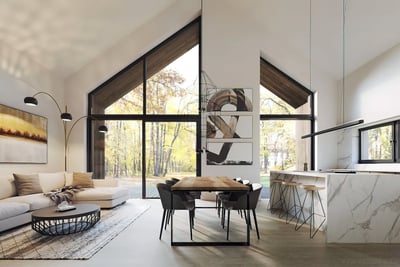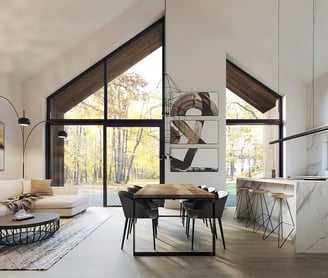 Vitay Homes listens to its customers and allows them to create their own unique home that fits their needs. We expect more for our clients than the traditional housing solutions. Our construction process allows us to easily add modern amenities to our homes. Besides custom designs, our homes can be connected to standard public utilities, or we offer far greater flexibility such as having your own independent water supply, sanitary system and an off-grid, sustainable electricity energy solution.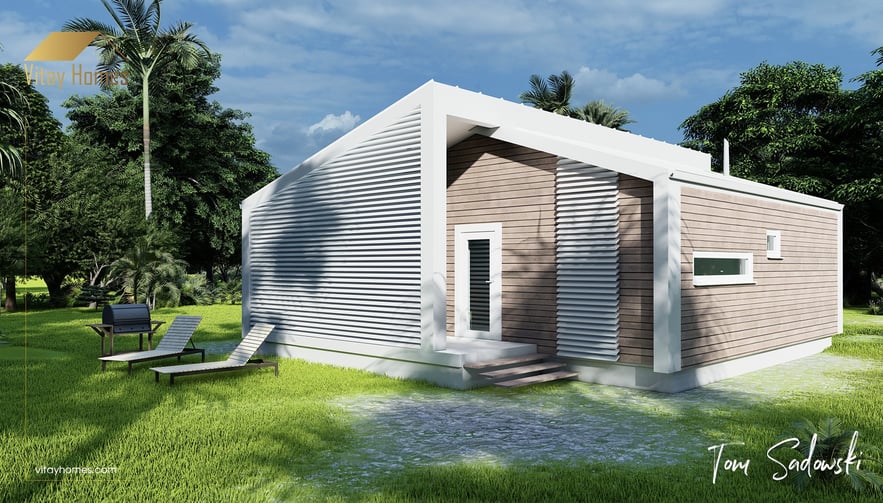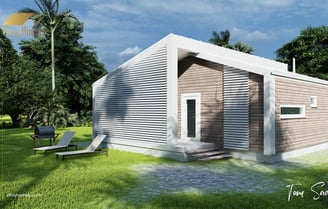 SUNSHINE BAY EDISON HOUSE
2 BEDROOM HOUSE
Our construction process and home designs offer consistent accessibility to high-quality building materials coupled with energy efficiency and extreme flexibility to present outstanding housing options which in all aspects surpass traditional offerings in today's housing market.
The Vitay Homes' construction process requires very minimal infrastructure and has practically zero impact on the site environment. Our homes are pre-fabricated and built on solid helical piers which depending site specifics can eliminate the need for conventional foundations. This in turn translates into significant savings in time and construction costs. In fact, on average our home installation takes fewer than 7 days from breaking ground to moving in.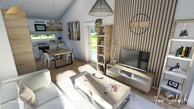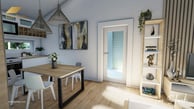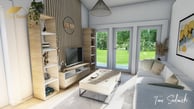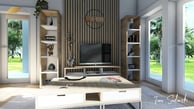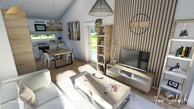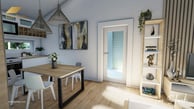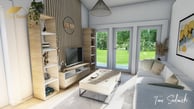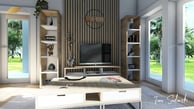 These homes are affordable, fast to build and very economical solutions for those seeking a comfortable yet frugal lifestyle. These homes are designed with simplicity and practicality in mind, ensuring that they can be constructed quickly and efficiently. By keeping costs low, they make homeownership more accessible to a wider range of people, including those on a budget. Moreover, these houses can be customized to meet individual needs and preferences, ensuring that each homeowner can create a space that they truly love. These homes can make the dream of owning a home a reality for many people, regardless of their financial situation.
Bruce P
I recently purchased a modular house manufactured by VitayHomes. There many great things I can say about the entire process but the speed at which the construction was completed left me in awe. The efficiency and swiftness displayed by the company truly deserve more than a five-star rating. As the work was supposed to start on my property, I had to go on a business trip expecting to be back to see the work progress. To my surprise, before I returned, I received a call telling me that my house is ready and the keys are waiting for me.
Marco C
Although I am not a person who rushes to post reviews, I personally feel obligated to so this time. I recently had the pleasure of purchasing a VitayHome. The house is simply fantastic. From the moment I stepped inside, what I saw was the seamless blend of modern design, functionality and sophistication. Its impeccable craftsmanship and attention to detail make this house a place not just to live, but to enjoy living there. It is not only I who admire the whole concept and execution, but everyone to whom I show my new house notices its highest quality, creating an immediate sense of durability and longevity, and also what's of great importance to me, of sustainability. This house truly redefined my perception of what a home can be. Now I know what every house should be.
Robert C
I and my wife would like to share our experience with everyone who is looking for a perfect new house. We had the great pleasure to deal with the VitayHomes team and we believe they deserve this accolade. The entire process deserves praise, but let us focus on two aspects: versatility and sustainability.
There is no fixed design. Each house layout is intelligently planned, with well-defined areas for living, dining and relaxation. The open-concept structure created a seamless flow between the different spaces, making the house feel incredibly spacious. What's even more important to us, the company was very accommodating in making adjustments to ensure what every detail we want is included in the design.
We are also very proud that our house is sustainable. VitayHomes incorporated eco-friendly features such as energy-efficient appliances, solar panels, environment-friendly materials. Not only did this significantly reduce our ecological footprint, but it also lowered utility costs. The use of sustainable materials in construction further emphasized the commitment to environmental responsibility. Simply great!!!
PROJECTING
If you're looking to build a new house, we offer a range of services to help you customize your dream home. Our team can create detailed floor plans and 3D renderings to give you a clear idea of what your new space will look like. We'll work with you to ensure that the size and layout of the house are exactly what you need, and we can customize any aspect of the design to make it special for you. Whether you have a specific vision in mind or need some guidance to bring your ideas to life, our experienced designers can help. With our expert project management and attention to detail, we'll make sure that every aspect of your new home is perfect for you.
ZOONING REGULATIONS & CERTIFICATION
The process of building a structure involves various factors such as zoning regulations, obtaining permits, determining the foundation, selecting a suitable location, adhering to international building codes, and going through the certification process. Zoning regulations specify the type of buildings and structures allowed in different areas, while permits are required to ensure that the construction complies with safety standards. The foundation is crucial in providing stability and support to the structure. The location should be strategically chosen to meet the specific needs of the building and its occupants. International building codes are guidelines that ensure the safety and health of occupants. The certification process involves obtaining approval from relevant authorities that the structure meets required standards. All these factors are carefully considered to ensure a safe and functional structure.
PRODUCTION
Galvanized steel construction is known for its durability and long-lasting quality, and with fast production, it's a top choice for construction projects. When it comes to furniture, full furniture sets made from galvanized steel offer both style and sturdiness. The fast production of galvanized steel furniture means that you can get the furniture you need without waiting for weeks or even months. With its high-quality construction, you can trust that the furniture will last a long time and withstand everyday wear and tear. Whether you're furnishing a home, office, or outdoor space, choosing galvanized steel furniture is the smart choice for both its quality and its quick turnaround time.
TRANSPORTATION & INSTALLATION
Our company offers a comprehensive range of services to cater to your delivery and shipping needs. With our expertise in transportation and installation, we ensure that your goods are delivered to their destination on time and in perfect condition. Our shipping services cover both local and international destinations, and we take pride in our commitment to providing reliable and efficient services. We understand the importance of timely delivery and work closely with our clients to ensure that their needs are met. Our team is highly trained and experienced, and we use the latest equipment and technology to ensure that your goods are handled with utmost care. Our standard delivery time is three weeks, but we can also accommodate urgent requests. Contact us today to learn more about our services.
MEET OUR TEAM
A COLLECTIVE, THAT MAKES DREAMS COME TRUE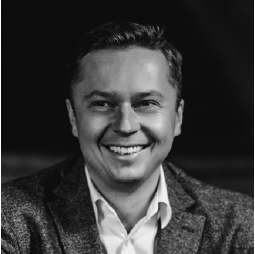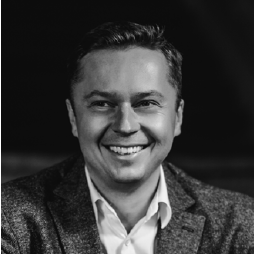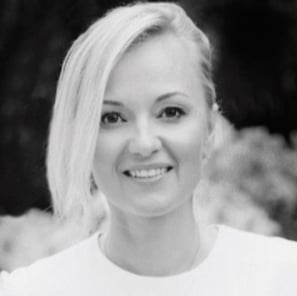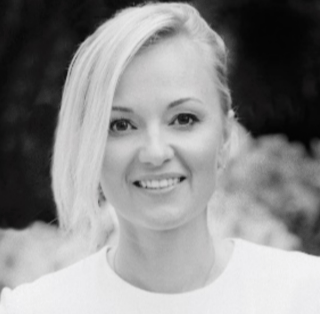 MAGDALENA SADOWSKA
Co - Founder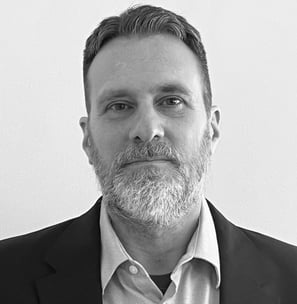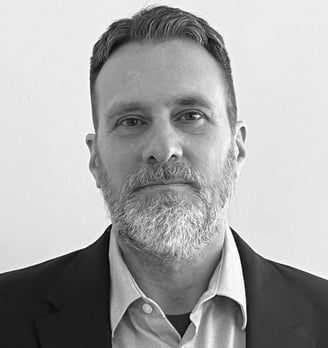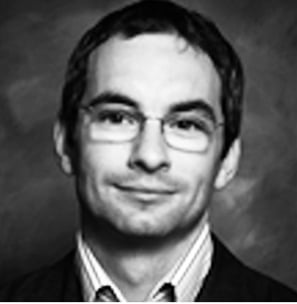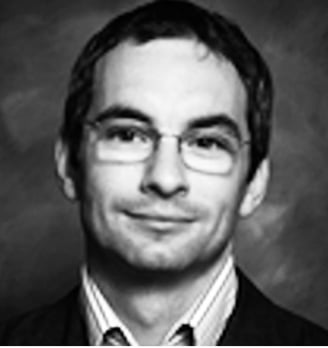 To bring our vision into reality, we need the best partners out there. We've joined hands with one of the best when it comes to materials, lightning and furniture to achieve sophisticated results.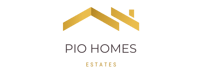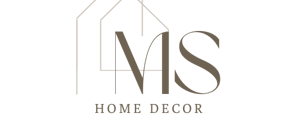 If you're interested in hearing more about the way we work, have a business proposal, or are interested in making a purchase, we'd love to hear from you.